STANDARD MODULAR RAMP
This ramp system is for residential applications. It includes the acceptable standards of provisions to prevent falls, collisions, and injuries within a dwelling setting.
The system adheres to ramp regulations for dwellings (Part M & K).
We highly recommend our fully compliant Rapid Ramp for schools and public buildings because it includes additional safety features such as infill handrails, yellow tread and a 1:15 minimum gradient.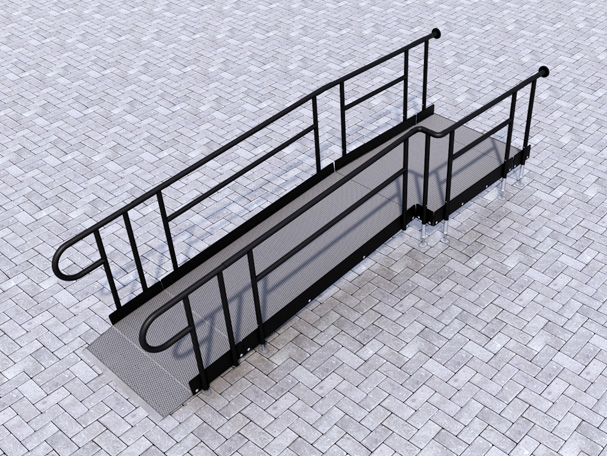 OPTIONAL EXTRAS:
Scroll down the page to view the selection of extras available.
Within your enquiry, please do indicate which extras you require from the list shown.
WIDTHS AVAILABLE:
900mm – the recommended width for dwellings under Document M, Section 6 of the Building Regulations.
1000mm – our standard ramp for dwellings.
1200mm – our slightly wider ramp.
1500mm – the recommended width for ramps for public buildings.
Any of the above can be secured together to create almost any width.
BESPOKE SIZES ARE AVAILABLE:
Metal ramps can be made as wide as you require.
Within your enquiry, please indicate your required width.
WIDTH & GRADIENT FOR A COMPLIANT DWELLING RAMP:
A dwelling ramp purchased via the council must have a gradient no less than 1:12 (4.7 degrees) and minimum width of 900mm, as stated in Documents M and K of the Building Regulations.