STANDARD MODULAR RAMP
This ramp system is more often specified for residential applications as a low-risk access solution.
However, the system can also be suitable for schools and public buildings with additional safety features such as Infill Handrails.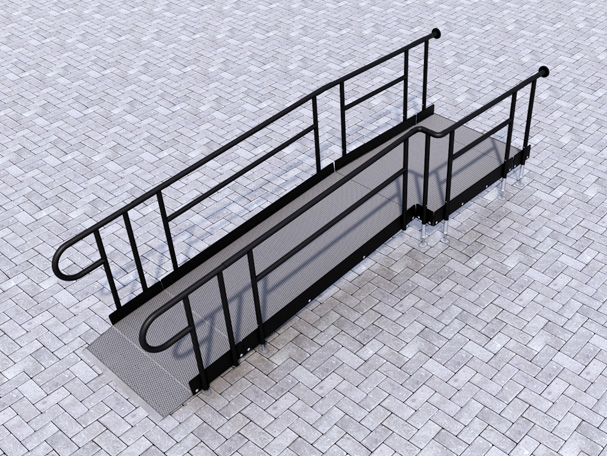 OPTIONAL EXTRAS:
Scroll down the page to view the selection of extras available.
Within your enquiry, please do indicate which extras you require from the list shown.
WIDTHS AVAILABLE:
900mm – the recommended width for dwellings under Document M, Section 6 of the Building Regulations.
1000mm – our standard ramp for dwellings.
1200mm – our slightly wider ramp.
1500mm – the recommended width for ramps for public buildings.
Any of the above can be secured together to create almost any width.
BESPOKE SIZES ARE AVAILABLE:
Metal ramps can be made as wide as you require.
Within your enquiry, please indicate your required width.
GRADIENT:
Wheelchair ramps for residential use must have a gradient no less than 1:12 (4.7 degrees).