FULLY COMPLIANT MODULAR RAMP
This ramp system fully adheres to DDA regulations, plus; Documents M and K of the Building Regulations.
It is designed with the highest standard of provisions to prevent falls, collisions, and injuries in public settings such as schools, hospitals, shops, libraries, train stations, airports, public toilet facilities, offices and hertiage sites.
All standard and compliant features must be included when applicable.
.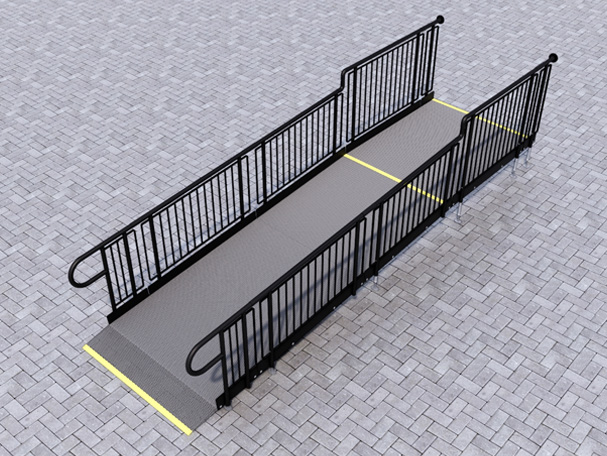 WHAT IS COVERED IN THE DOCUMENTS?
Document M – Gives practical guidance to access and use of buildings.
Document K – Protection from falling (handrails).
WIDTH & GRADIENT FOR A FULLY COMPLIANT SPECIFICATION:
The ramp must achieve a minimum width of 1500mm and have a 1:15 gradient (3.7 degrees).
Wider widths can be created.
BESPOKE SIZES ARE AVAILABLE:
Ramps can be made as wide as you require.
Within your enquiry, please indicate your required width.
OPTIONAL EXTRAS:
Scroll down the page to view the selection of extras available.
Within your enquiry, please do indicate which extras you require from the list shown.