TEMPORARY RAMPS & STEPS FOR
EVENT MARQUEES & PORTABLE CABINS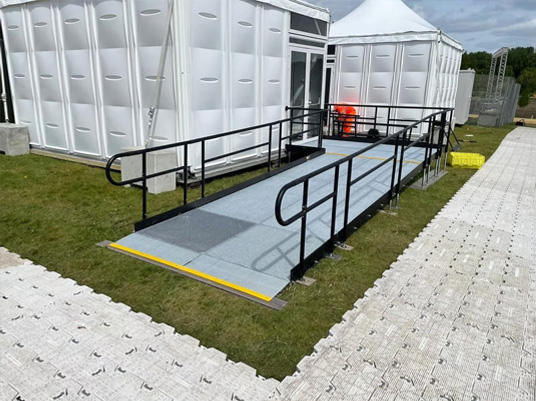 In accordance with the 2010 Equalities Act, it is imperative that reasonable adjustments, such as wheelchair access, are readily available at public events. These provisions are essential to ensure that disabled participants, attendees, and staff have easy access.
We are committed to collaborating with companies and event organisers, providing convenient off-the-shelf ramps and steps.
Our systems are meticulously engineered to facilitate effortless installation, reuse, reconfiguration, and removal. In contrast, one-time-use products like timber lack these advantages.
The system can also bridge different floor levels and offer accessibility to temporary structures such as spectator platforms, marquees, portable cabins, stages, and restroom facilities.
Should you require rental ramps, we provide the flexibility to synchronise the rental duration with the hiring period of other temporary structures.