MODULAR RAMPS
WHICH MODULAR WHEELCHAIR RAMP IS RIGHT FOR YOU?
Rapid Ramp is a fully adjustable modular wheelchair ramp, constructed from galvanised steel components that are bolted together.
BENEFITS:
Rapid design & installation.
Made of durable steel with galvanised walkway & powder-coated, warm-to-touch handrails.
Manufactured in the UK with a nationwide service in the UK and Ireland.
Reusable modular components.
Metal ramps are non-combustible, compared to wooden ramps which will burn if exposed to fire.
3-year guarantee, life span of over 25 years.
Suitable for all types of buildings, including permanent, temporary and portable.
Suitable as a short or long term solution.
Fully adjustable, can be adapted, modified and reused.
Modular ramps can easily be removed, leaving an area in its original condition.
WIDTHS AVAILABLE:
900mm – the recommended width for dwellings under Document M, Section 6 of the Building Regulations.
1000mm – our standard modular wheelchair ramp for dwellings.
1200mm – our slightly wider modular ramp.
1500mm – the recommended width for modular ramps for public buildings.
Any of the above can be secured together to create almost any width.
Modular components come in various sizes, lengths and widths to suit different areas and applications. Plus, platforms can be designed in both straight-through and turning configurations.
WHAT ARE MY OPTIONS?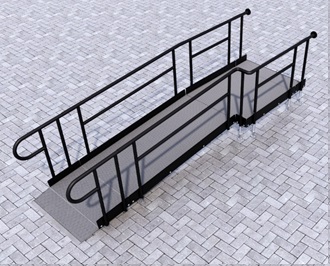 The Fully Compliant Modular Ramp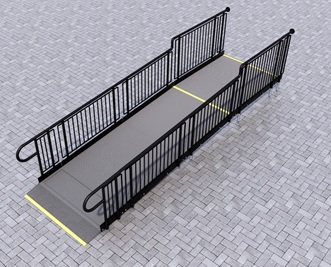 Optional extras such as GRP platforms can be added to both modular systems.
BESPOKE SIZES ARE AVAILABLE:
Modular systems can be made as wide as you require.
Within your enquiry, please indicate your required width.