External Ramps, Southend University Hospital
AN EXTERNAL RAMP DESIGN FOR AN EMERGENCY VILLAGE BUILDING
Application
Healthcare
Location
Southend-on-Sea, Essex
System

Service Package
Supply & Install
A range of improvement works were underway at the hospital, including fitting a new three-storey modular building for emergency care.
The new facility will allow people to be seen quicker, reduce the number of patients unnecessarily admitted to hospitals, and free up beds.
Two external ramps compliant with building regulations.
The system will overcome the threshold at the entrance and emergency exit.
Our latest product Solid Underside Hoarding will be fitted underneath each external ramp.
It is a weather-proof, aluminium front that will prevent litter, vermin, and public access.
CAD ramp drawings were designed in-house and provided to the client with their quotation.
Two external ramps were installed, one from the main door and the other from the emergency exit.
To ensure rigidity under all 1500 x1500mm platform legs, cross bracing was achieved using longer length tubes.
The Solid Underside Hoarding conceals all crossing bracing efforts and will prevent access underneath the platforms.
FEATURES INCLUDED:
Infill Handrail - this product prevents users from climbing or falling through gaps.
Yellow Tread - this is a safety feature designed to help those with impaired vision identify the nose of the ramp. Additionally, it helps users distinguish any level changes.
Trombone Ends - these are added to the ends of a Rapid Ramp to prevent clothes catching.
Mesh Platform - the self-draining mesh allows water to pass through rather than collect on the surface.
Rest Platform – a rest platform at 5 metres is required to allow the user to pause.
1100mm High Rail – these handrails attach to any level sections.
Continuous Handrail - this handrail system ensures users always have support to hold onto.
EXTRA FEATURE INCLUDED:
Solid Underside Hoarding – this is a weather-proof, aluminium front that will prevent litter, vermin, and public access underneath the platforms.
Specification Includes:
• Mesh size 200 x 50mm.
• 33.7mm OD Single mesh clip.
External Ramps & The Building Regulations
If your external ramp needs to comply with building regulations than there are some minimum requirements that need to be met to ensure compliancy.
For public buildings including schools, hospitals, shops, airports, and train stations:
The minimum width of a ramped approach is 1500mm, and the gradient is 1:15 (Doc M. Vol 2. Page 19. 1.26e / BS8300-1. Page 41).
The minimal length of a level platform is 1500mm (Doc M. Vol 2. Page 20h / Doc. K 2.13b / BS8300-1. Page 41).
The minimum step width is 1500mm (Doc M. Vol 2. Page 19 1.26e / BS8300-1. Page 36).
The minimum handrail height for a level platform is 1100mm (Doc K. Page 24. Diagram 3.1. / BS8300-1. Page 42).
>Further information on the external ramp regulations to public buildings<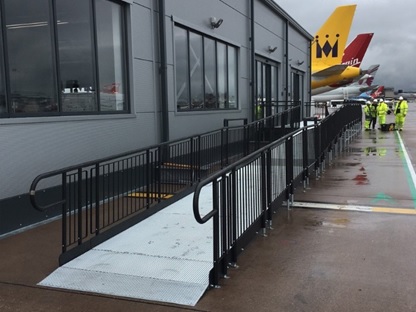 For dwellings including concrete homes, mobile homes, and caravans:
The maximum (steepest) gradient for a domestic dwelling is 1:12
Threshold Height x Gradient = Length of ramp required e.g., 100mm x 12 = 1200mm ramp
A level landing must be at least 1200mm long.
>Further information on the external ramp regulations to dwellings<