St Bartholomew's Hospital
AN EXTERNAL RAMP TO THE GRADE 1 LISTED HOSPITAL
Application
Heritage
Location
London
Service Package
Supply & Install
Founded in 1123 and rebuilt to designs of James Gibbs. The Grade I listed North Wing at Barts showcases spectacular canvases by William Hogarth & the historic Great Hall.
Provision of an external ramp to improve access to the Wellbeing Hub located in the West Pavilion of the North Wing.
The installation took two days to complete, including fitting the underside mesh.
The ramp fully complies with Part K and M of the Building Regulations and includes a 1:15 gradient.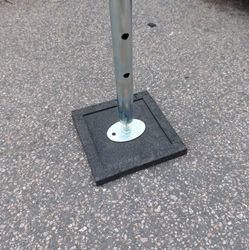 It will be a permanent fixture at the hospital.
The greatest care is taken with historic ramp installations, with measures to prevent any damage being caused to different floorings, walls, and historical steps.
The ramp didn't require any ground or wall fixings. Once the components are bolted together, the weight of the system itself keeps it neatly in place. Plus, slip-resistant rubber tiles were added underneath each support foot.
FEATURES INCLUDED:
Infill Handrail - this product prevents users from climbing or falling through gaps.
Yellow Tread - this is a safety feature designed to help those with impaired vision identify the nose of the ramp and steps and distinguish any level changes. Yellow is also one of the easiest colours to see because of its ability to reflect light.
Mesh Platform - the self-draining mesh allows water to pass through rather than collect on the surface.
Rest Platform – a rest platform at 5 metres is required to allow the user to pause.
1100mm High Rail – these handrails attach to any level sections.
Continuous Handrail - this handrail system ensures users always have support to hold onto.
Standard Colour: Black - Ramps are powder coated black to create a durable finish that is tougher than conventional paint.
EXTRA FEATURE INCLUDED:
Standard Underside Mesh - this is designed to prevent users from gaining access to the underneath of the ramp.