Ramp For Dogs, Plunketts Veterinary Surgery
A STEEL RAMP SUITABLE FOR DOGS AND ALL
Application
Public Building
Location
Ramsgate, Kent
Service Package
Supply & Install
An industrial building was being refurbished and turned into a veterinarian surgery.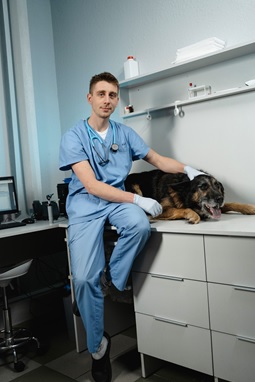 A steel ramp & two step units to complement the industrial appearance of the building.
Since half the clients are dogs, our rubber crumb surface was recommended. The product provides a slip-resistant, soft padded surface ideal for a dog's paws and craws.
CAD and technical drawings were designed by our specialist designer in-house.
A fully compliant ramp from the main entrance was fitted and steps from the other two doors. The installation was fully completed in three days.
The systems were fitted with the rubber crumb surface and our newest product Solid Board. The product creates a solid front under the platforms, reducing vermin and pet access. Also, prevents litter build-up.
FEATURES INCLUDED:
Infill Handrail - this product prevents users from climbing or falling through gaps.
Yellow Tread - this is a safety feature designed to help those with impaired vision identify the nose of the ramp. Additionally, it helps users distinguish any level changes.
Trombone Ends - these are added to the ends of a Rapid Ramp to prevent clothes catching.
Mesh Platform - the self-draining mesh allows water to pass through rather than collect on the surface.
Rest Platform – a rest platform at 5 metres is required to allow the user to pause.
1100mm High Rail – these handrails attach to any level sections.
Continuous Handrail - this handrail system ensures users always have support to hold onto.
EXTRA FEATURE INCLUDED:
Solid Board – The product creates a solid front under the platform, reducing vermin access and litter build-up.
Safetread Rubber Surface - This is a soft, slip-resistant surface that reduces the impact of falls. The product is made from the same materials used in soft play areas and is ideal for nurseries, schools, and public facilities. Plus, it is available in a range of colours and will continue to perform in all weather conditions.
WHEELCHAIR RAMPS FOR DOGS:
A ramp suitable for dogs can be achieved with the inclusion of a rubber crumb surface on the Rapid Ramp System.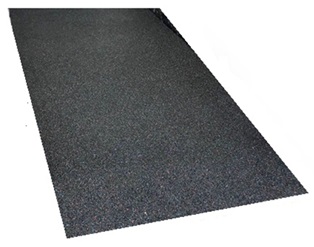 It is also recommended to add infill rail on ramps to prevent animals from falling through any gaps.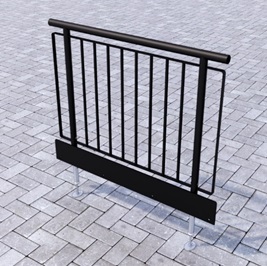 Please note that our ramps are not suitable for creating ramps to cars.
Our products provide access into buildings and external spaces.