Palmarsh Primary School
SAFETREAD RUBBER SURFACE – THE IDEAL CHOICE FOR THE PRIMARY SCHOOL
Application
Education
Sectors

Location
Hythe, Kent
System

Service Package
Supply & Install
DDA improvement works were underway at the school, including widening the existing interior openings and adding new external doors with ramped access.
DDA compliant ramps with childproof, slip-resistant surface coverings.
CAD and technical drawings were designed in-house and based on-site measurements taken.
Once the new doors were in place, we installed the DDA ramps accordingly with a 1:15 gradient.
Each system was fitted with our Safetread Rubber Surface. This is a soft, slip-resistant ramp covering that reduces the impact of falls.
The product is made from the same materials used in soft play areas and is popular with nurseries, schools, and public facilities.
Plus, it is available in a range of colours and will continue to perform in all weather conditions.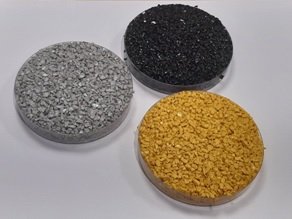 FEATURES INCLUDED:
Mesh Platform - self-draining mesh allows water to pass through rather than collect on the surface.
Trombone Ends - these are added to the ends of a Rapid Ramp to prevent clothes catching.
Telescopic Legs - these can be adjusted to accommodate threshold heights.
Continuous Handrail - this handrail system ensures users always have a support to hold onto.
Standard Colour Black - ramps are powder-coated black to create a hard finish that is tougher than conventional paint.
EXTRA FEATURES INCLUDED:
Infill Handrail - this product prevents children from climbing or falling through gaps.
Yellow Tread - this is a safety feature designed to help those with impaired vision identify the nose of the ramp and helps users distinguish any level changes.
Safetread Rubber Surface – a soft, slip-resistant ramp surface covering that reduces the impact from falls.