Lincoln Cathedral
INTERNAL WHEELCHAIR ACCESS FROM THE MINSTER YARD
Application
Heritage
Location
Lincoln, East Midlands
Service Package
Supply & Install
In order to enhance wheelchair accessibility to the cathedral, it was necessary to install both internal and external ramps to overcome the steps.
CAD drawings were generated and provided to the client along with their quotation.
On the internal ramp drawing, removable handrail ends were created to enable the double doors to open and close as needed.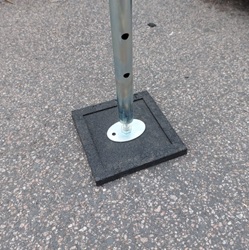 Great care was exercised when installing the ramps to preserve the cathedral's floors and walls. These ramps do not require any ground or wall attachments; once the components are securely bolted together, their weight ensures stability. Additionally, slip-resistant rubber tiles have been placed beneath each support foot.
Should wedding parties wish to take photos at the entrances without the ramps in the frame, these systems can be easily disassembled before the event and reinstalled afterwards. This flexibility is a unique advantage neither wooden nor concrete ramps can offer.
FEATURES INCLUDED:
Mesh Platform - self-draining mesh allows water to pass through rather than collect on the surface.
Trombone Ends - these are added to the ends of a Rapid Ramp to prevent clothes catching.
Telescopic Legs - these can be adjusted to accommodate threshold heights.
Standard Colour Black - ramps are powder-coated black to create a hard finish that is tougher than conventional paint.
EXTRA FEATURES INCLUDED:
Infill Handrail - this product prevents children from climbing or falling through gaps.
Yellow Tread - this is a safety feature designed to help those with impaired vision identify the nose of the ramp and helps users distinguish any level changes.
Standard Step Unit - an ideal addition to any ramp installation, providing the access needed for able-bodied users. They can also be stand-alone units, independent of the Rapid Ramp System.
I have been impressed with my overall experience dealing with Rapid Ramp. They have provided excellent customer service and a quality product based on its usage so far.
Facilities Maintenance Manager