Basildon University Hospital
REUSING RAPID RAMP COMPONENTS IN A NEW CONFIGURATION
Application
Healthcare
Location
Basildon, Essex
System

Service Package
Supply & Install
PROJECT BACKGROUND & REQUIREMENT:
The current Rapid Ramp serves as a means for patients to access a movable CT scanner unit and incorporates a turn platform enabling it to sit alongside the building.
Since the unit needed to be relocated within the hospital premises, the accompanying ramp needed to be reconfigured to have a straight design without any turns.
We submitted a quotation that encompassed labour costs, new fittings, and our current estimated delivery times.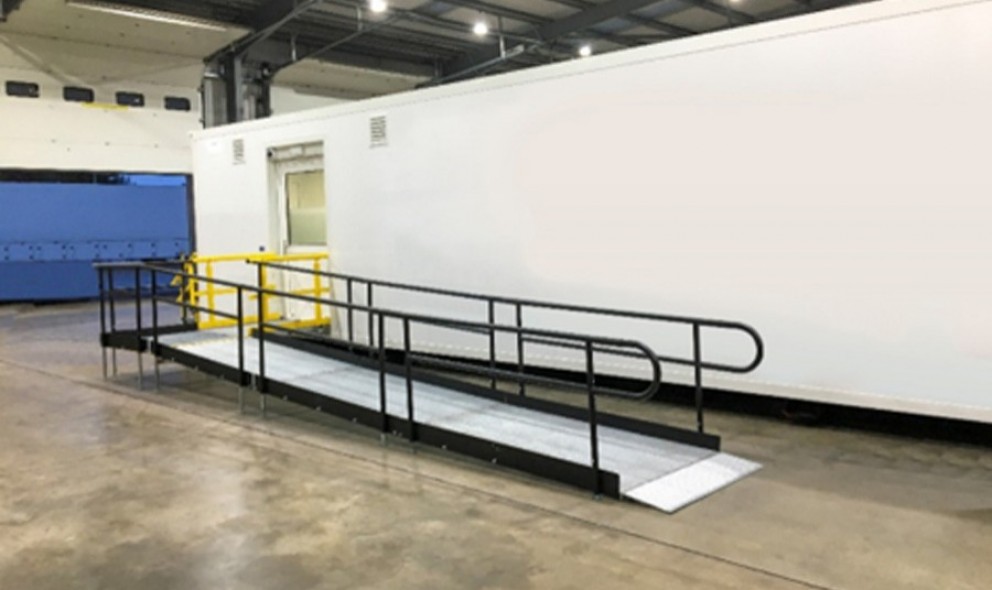 After relocating the CT scanner to its new site, we disassembled the old ramp and had it installed in its new position within a remarkable two-hour turnaround time.
If the customer had opted for a concrete ramp of this size, it would have necessitated a 24-hour curing period before it could be used. Such an approach would have compelled the CT scanner to remain inactive for that duration, which was clearly not feasible given the NHS's urgent imperative to reduce the existing backlog of CT scanning appointments.
FEATURES INCLUDED:
Standard Handrail - this handrail system ensures users always have support to hold onto.
Trombone Ends - these are added to the ends of a Rapid Ramp to prevent clothes catching.
Mesh Platform - the self-draining mesh allows water to pass through rather than collect on the surface.
Black Powder Coated Finish – rails are coated with thermosetting powder to provide a non-conductive, non-slip and scratch resistant surface.
Telescopic Legs - these can be adjusted to accommodate different threshold heights.
RAPID RAMP VS TRADITIONAL MATERIALS FOR RAMP CONSTRUCTION
Unlike our modular steel ramp, which can be used repeatedly, concrete and wood are single-use materials that are discarded after one project, often requiring skip disposal depending on the project size.
The Rapid Ramp system are crafted from fully galvanised steel components that are both 100% recyclable and reusable, contributing to waste reduction and enhancing the long-term value of our products.
Our system typically takes just one day to complete, while concrete require a 24-hour curing period.
Wooden ramps are very prone to rotting, splintering, and cracking.