Second Hand Wheelchair Ramps, The Grove School
RAMP RECYCLING SCHEME
Application
Education
Location
Hastings, East Sussex
System

Service Package
Supply & Install
The school was built in the 1950s when disability access provisions weren't obligatory.
However, with the 2010 Equality Act replacing all pre-existing equality legislation, the school became legally obligated to make reasonable adjustments for disabled students.
It was identified that several ramps would be required.
The specifier was particularly interested in purchasing second hand wheelchair ramps under our Ramp Recycling Scheme, as the site was earmarked for housing development.
Several second hand modular ramps were installed at various access points across the school.
Once no longer needed, the ramps were removed and provisionally stored in our warehouse.
They were later reused in other projects, creating a win-win situation for the school and the environment, as components could be reused.
FEATURES INCLUDED:
Trombone Ends - these are added to the ends of a Rapid Ramp to prevent clothes catching.
Telescopic Legs - these can be adjusted to accommodate different threshold heights.
Mesh Platform - self-draining mesh allows water to pass through rather than collect on the surface.
Standard Continuous Handrail - this handrail system ensures users always have support to hold onto.
EXTRA FEATURE INCLUDED:
Infill Handrail - this product prevents children from climbing or falling through gaps.
​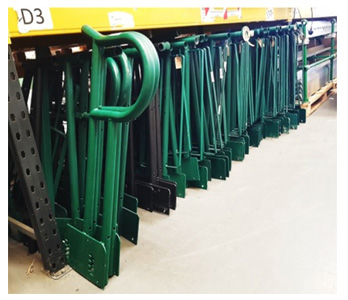 Substantial savings will be made by a reduction of labour time (over traditional building methods) and product reusability.
Second hand ramps are stored at our premises for no additional cost. We take care of the warehousing, stock management and stock rotation for you.
Recycled ramps remain a fully Doc M compliant solution.
The product's modular design was ideal, as the ramps were only going to be there temporarily
Specifier