Ramps to Testing Centre, Ellesmere Port
DELIVERING RAMPS & STEPS WITHIN 24 HOURS
Application
Healthcare
Location
Ellesmere Port, Cheshire
Service Package
Supply & Install
A walk-through Covid test centre would be constructed in double quick time in Wellington Road car park, serving residents displaying Covid-19 symptoms.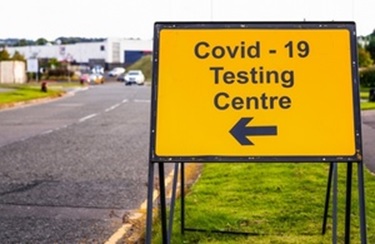 Modular ramps and steps were needed as soon as possible to allow the site to open to the public within the same week.
The systems were onsite and fitted within 48 hours after the site dimensions being received. This allowed the site to open and for testing to begin accordingly.
This project was achieved and managed by an in-house team which included a site surveyor, designer, and installers.
All components were available from stock and ready for installation as soon as necessary
FEATURES INCLUDED:
Trombone Ends - these are added to the ends of a Rapid Ramp to prevent clothes catching.
Telescopic Legs - these can be adjusted to accommodate different threshold heights.
Standard Handrail - this handrail system is designed to be grasped by the hand, to provide stability or support.
Mesh Platform - this self-draining mesh platform allows water to pass through rather than puddle on the surface and potentially freeze.
Standard Colour Black - ramps are powder-coated black to create a hard finish that is tougher than conventional paint.
EXTRA FEATURE INCLUDED:
Step Units - an ideal addition to any ramp installation, providing the access needed for able-bodied users. They can also be stand-alone units, independent of the Rapid Ramp System.
Yellow Tread - this is a safety feature designed to help those with impaired vision identify the nose of the ramp and helps users distinguish any level changes.
ACCESS RAMPS & STEPS FOR PREFABRICATED BUILDINGS:
Like modular buildings, our ramps & steps are prefabricated systems, carrying benefits including:
A fast construction time - Ramp installations are typically completed within a 1 to 2-day turnaround time. Components are manufactured and stored in-house.
Easy to remove – Once no required, ramps can be disassembled within a few hours.
Design and build flexibility - Ramps can be re-designed and re-configured to suit different sized areas.
Cost-effective – Our access ramp has a life span of over 25 years with no maintenance costs.
Environmental benefits – Ramp components can be reused under our ramp recycling scheme.
Safety features - Includes handrails for grip and a slip-resistant mesh platforms as standard.